The Festival will take place at:

REINA MORA CINEMA HALL :
SCREENING ROOM & CINEMA ATMOS 7.1.4
This room has 12 cinema speakers (Luis Wassman).
The screen in this room is an acoustic cinema one, with surround sound capabilities as well as Atmos 7.1.4. The video is projected from an HD projector.
The room has white leather seats for comfortable screenings.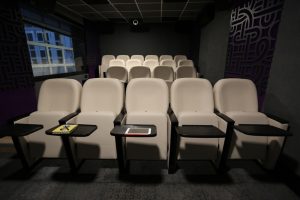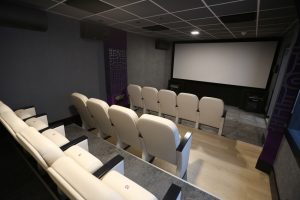 The Award Ceremony and After Party will be held in the ESPACIO CROMA where Spanish wine and authentic locally sourced tapas will be served. A unique space with capacity for 60 people.

Participants will also have the chance to discover some of the newest production and post-production facilities in Madrid and mingle and network with Spanish and international filmmakers.
We are leaving the big screening rooms and going for the smaller, cozier ones, where you feel just like you're at home surrounded by friends and family.
There will be fantastic opportunities for discussion after the screenings and for exchanges between filmmakers and the audience.
A mixture of press, film critics, film bloggers, and film distribution executives have already reserved front row seats in anticipation of the festival.